Welcome to the iPro!
iPro stands for "Inflight Profile". This unique application allows users of the Inflight Institute.com to put their best foot forward with our Member Airlines. The iPro will certainly help launch your career, show you are serious and get you flying.
When airlines are searching the Inflight Institute.com database for potential candidates, like YOU, they will have a firsthand look at your qualities and abilities and why you are right for their airline. It is all about a perfect fit.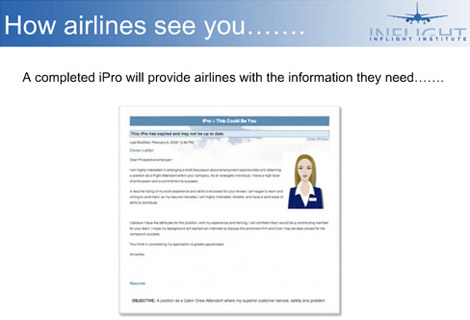 After purchase, creating your iPro can be done in a just a few simple steps.
First – login to your Inflight Institute.com account and click on iPro on the menu bar.
Second – You are able to upload a picture of yourself to your iPro. We would encourage you to make sure it is a tasteful picture that shows your professional side.
iPro allows you to provide information about yourself so our member airlines can better understand who you are. First impressions are crucial, so think about what you will put out there about yourself.
Cover letter – A cover letter is often your earliest written contact with a potential employer, creating a critical first impression. Effective cover letters explain the reasons for your interest in becoming a Flight Attendant and identify your most relevant skills or experiences.
Resume – Your resume should outline your skills and experiences.
About Me – Provide a short description about yourself. This is a personal insight you and the things you like to do in your personal time. Make it tasteful and truthful.
Why I want to be a Flight Attendant – Take this opportunity to describe why and what qualities you believe you have to make a great Flight Attendant. Describe in detail what qualities you possess so our Member Airlines can get to know you a little better, which will encourage them to contact you for an interview.
A completed iPro will provide airlines with the information they need. They will use it as a screening tool as part of their hiring process. (iPro features may be restricted by your geographical location.)
As you can see, the information within the iPro is invaluable to airline recruiters, assisting you to getting an interview. Recruiters know we have good solid people in our database, just waiting to find their perfect fit. They save time and money interviewing the right candidates for their airline.
Put yourself in the recruiter's shoes! If you had complete information about someone you are considering interviewing, wouldn't it make you feel more comfortable to give them a call? Wouldn't it make it easier for asking questions?
Thousands of people become Cabin Crew members every year.
So can you!